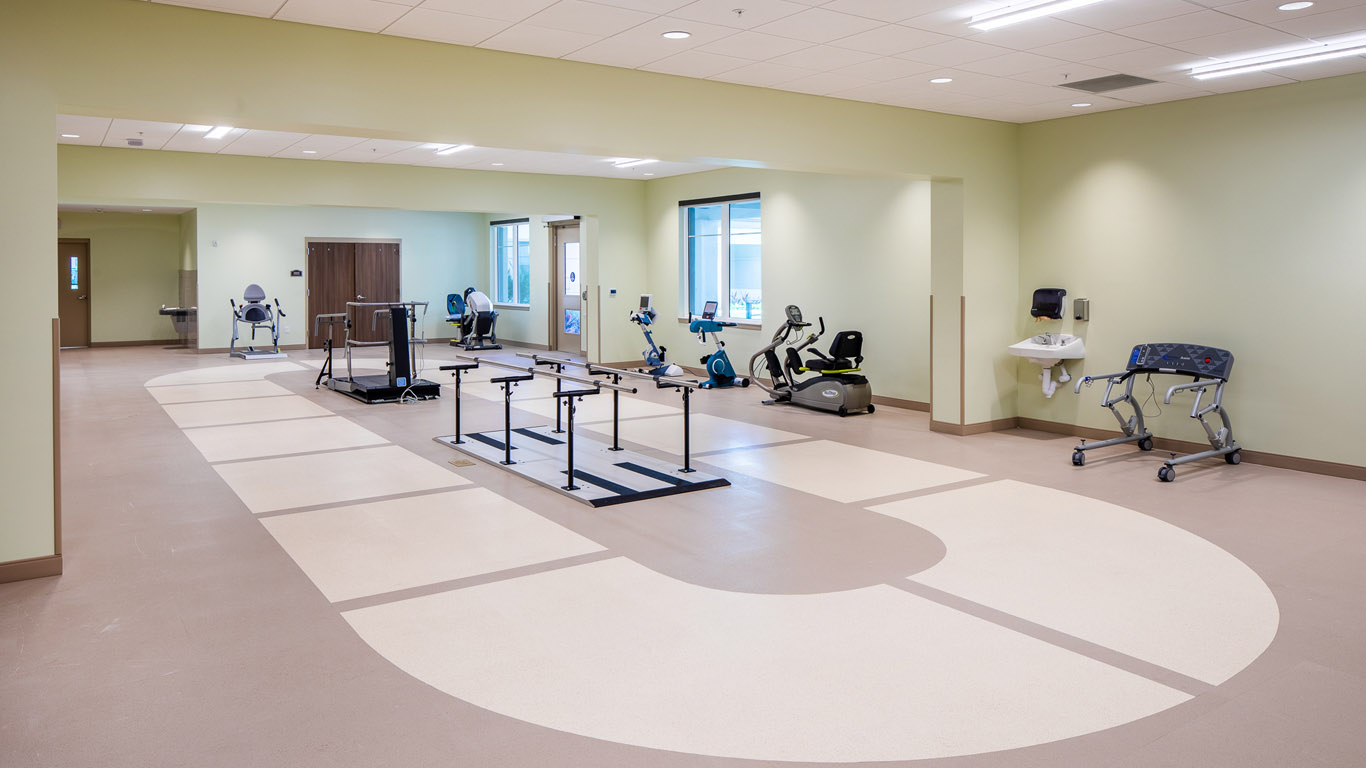 SHORT-STAY REHABILITATION
When you need a little extra support following a medical event, there's no need to worry about how you can achieve the next step to regaining your independence. River City Rehab is Where You Want to Be.
Outpatient Therapy
We are here to put you and your needs first. Taking you from one stage of recovery to the next, our state-of-the-art therapy equipment and scientifically proven technologies help us cater your interventions for your needs. Let us help you get back to your new and improved self, living your best life.
Outpatient Rehab Services Include:
Indoor and Outdoor rehab training spaces including a therapeutic outdoor courtyard
Orthopedic Surgery Rehabilitation
Stroke and Neurological Rehabilitation
Pain Management
Cardiac and Pulmonary Rehab
Occupational Therapy Services through our Occupational Therapy Suite:
Retraining for activities of daily living
Fall Prevention and Balance Retraining
Cognitive and Swallowing Retraining
Hi-tech equipment:
Mobility Assist
Kore Balance
Active Assist Cycle
Dynamic Stair Trainer
NuStep
Accelerated Plus (ACP®)
Post-Op Inpatient Rehab:
Let us help you get your independence back as we work together on your individualized treatment plan. We are here to ensure each short-stay resident receives personalized care to meet your specific needs. Our private and quasi-private rooms help you get back on track with dignity. Our trained staff offers physical therapy, occupational therapy, and speech-language therapy to ensure we are treating your whole self.
Physical Therapy:
Manual therapies such as massage techniques, trigger point releasing, joint mobilization and stretching
Modalities such as ultrasound, electric stimulation and hot/cold pack use
Range of Motion Exercises
Strengthening Exercises
Balance Training (Gait and Transfer)
Home Exercise Plans
Use of Fitness Equipment Training
Occupational Therapy:
Range of Motion Exercises
Strengthening Exercises
Electric Motorized Chair Assessment and/or Training
Mobility Training
Adaptive Equipment Assessment and Training
Home Exercise and Individual Ease of Motion Training
Speech-Language Therapy:
LSVT® Loud and Voice Retraining
Swallow Vital Stimulation
Diet Modification and Reflux Management
Post-Neurological/Stroke Assessment and Training
Memory and Organizational Training for Memory Issues
Occupational Therapy Suite
We have a fully-equipped occupational therapy suite with a bedroom, kitchen, bathroom, and laundry to simulate activities that you will do when you return home. Our short-term residents learn how to reach for things, get in and out of the bed, bathtub and shower and even practice cooking, going up and down stairs, washing dishes and doing laundry. Our team collaborates with loved ones, caregivers and our patients to ensure you can remain safe and healthy when you are at home.
Seen enough? Come Take a Tour.